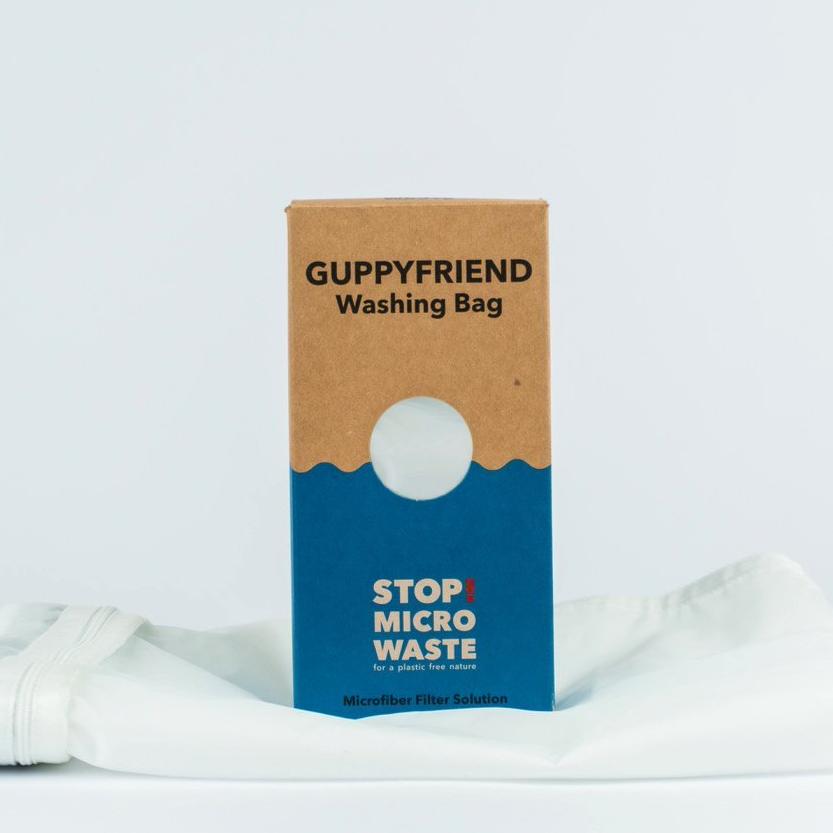 GUPPYFRIEND - Microfiber Collecting Wash Bag
Wash synthetic clothing responsibly with the Guppyfriend microfiber-catching laundry bag. The weave of the Guppyfriend helps filter and prevent nylon, spandex, polyester, acrylic, and other plastic microfibers from entering our waterways and affecting aquatic wildlife. The wash bag's ability to catch tiny particles of plastic makes it a superior method of laundering clothing such as athleisure, synthetic fleece, acrylic sweaters, swimsuits, uniforms and more. 

By using the Guppyfriend, purchasing less synthetic clothing, and washing clothing less often in cooler washes, we can do our part in reducing the volume of microfibers released into the environment.
ECO-FRIENDLY
Lowers the negative impact of our reliance on clothing made with synthetic fabrics.




Extends the life of your garments. Protects clothing by reducing fiber shredding/breakage to help garments last longer.

A reminder at each wash to choose natural fabrics while continuing to get the most out of your wardrobe that's made of artificial fabric.
REUSABLE + LONGLASTING
Durable and fortified at the seams to ensure tiny plastic particles do not wash away. 
Machine washable with a variety fabrics.
Directions
Place clothing into the Guppyfriend, take care not to over fill (no more than 60% full) to allow proper agitation for effective cleaning. Securely zip the bag shut and place in the wash. After cleaning is complete, remove garments from the Guppyfriend. Collect and discard microfibers (best to do while the bag is still damp from a wash) that have accumulated in the seams and corners directly into the trash. Do not rinse the collected debris down the drain.
*Do note it may require several washes before there is a significant buildup  of microfiber bits to gather and remove manually.
Weight
4 oz (113g)
​
Care 
Use with liquid detergent only. Do not place in the hot wash or any wash warmer than 86°F/30°C. Do not place in dryer. Do not iron. Keep out of direct sunlight. Allow the Guppyfriend to fully air dry after each use for best results. 
Dimensions
Approximately 29" x 20".
Origin
Made of recyclable, untreated polyamide. Imported.
*This product supports STOP! Micro Waste, a non-profit initiative. A portion of proceeds of the Guppyfriend is dedicated to raising awareness and educating students, adults and industry partners about (micro)plastic pollution.
---
---
More from this collection